A Celebration of Hôtel Rothschild et son Jardin Pontalba
& the Franco-American Legacy
The Lights that Guide Us:
A Celebration of Hôtel Rothschild et son Jardin Pontalba
& the Franco-American Legacy
This exhibition is designed to celebrate the 50th anniversary of the U.S. ambassador's residence in Paris. It is titled The Lights That Guide Us and will be on display in the Ball Room of the Hôtel Rothschild, as the house is known today. The ambassador's residence, originally Hôtel Pontalba for its builder, has a 300-year history with rich connections to both France and the United States.
Presented will be a mixed showcase of art, media, and cultural holdings. All objects will be staged in such a way as to encourage thoughts of family, State Department history, architecture, and shared culture. The series of loans provided will represent partners such as The National Museum of American Diplomacy, The National World War II Museum, The Tennessee State Museum, The Pontalba Family holdings, The Rothschild Family holdings, Foundation for Art and Preservation in Embassies, and Embassy Paris collections. A web platform, created with the help of the developers Cuseum, will accompany the physical exhibition highlighting additional materials and introducing oral commentary.
Opening Ceremony June 10, 2022.
Les lumières qui nous guident :
Une célébration de l'Hôtel Rothschild et de son Jardin Pontalba
& l'Héritage Franco-Américain
Cette exposition est conçue pour célébrer le 50e anniversaire de la résidence de l'ambassadeur des États-Unis à l'Hôtel Rothschild, Paris. Il s'intitule Les lumières qui nous guident et sera presenté dans la salle de bal de l'hôtel. La demeure de l'ambassadeur, nommé précédemment l'Hôtel Pontalba après son constructeur, a une histoire de 300 ans qui montre des riches connexions entre la France et les États-Unis.
Un ensemble de divers objets d'art, des médias et de patrimoine culturel sera exposé. Tous ces œuvres seront disposés dans une façon à animer des réflexions sur les liens de famille, l'histoire du Bureau des Affaires Étrangers des États Unis, de l'architecture, et de la culture partagée. Les prêts accordés représenteront des partenaires tels que le National Museum of American Diplomacy, le National World War II Museum, le Tennessee State Museum, les possessions des familles Pontalba et Rothschild, la Foundation for Art and Preservation in Embassies, et les collections de l'ambassade Americaine à Paris. Une plateforme web, créée avec l'aide des développeurs Cuseum, accompagnera l'exposition physique, mettant en avant des matériaux complémentaires et introduisant des commentaires parlés.
Le vernissage aura lieu le 10 juin 2022.
---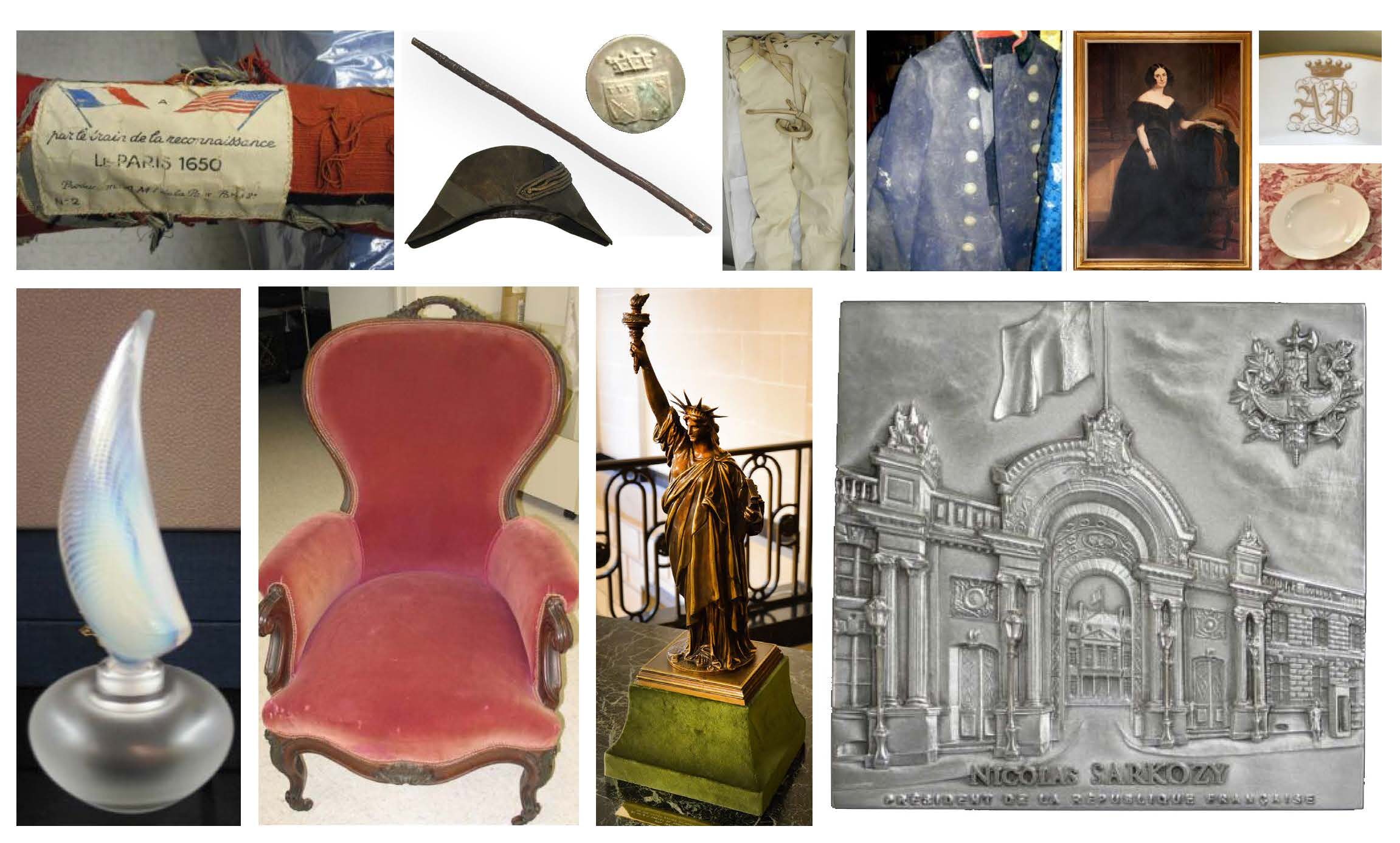 ---
Items & Images (still confirming) from Exhibit (L‑R Top): Tapestry — Depiction of Paris in 1650; Bicorn beaver hat for John Y. Mason diplomatic uniform; Marquis de Lafayette's walking stick; Button — Pontalba coat of arms under barons coronet; John Y. Mason diplomatic uniform and white trousers; Long wool overcoat; Baroness Micaela Almonester de Pontalba, family portrait; Detail of Almonester-Pontalba coronet over initials; Almonester-Pontalba Gumbo Plate (L‑R Bottom): Lalique glass perfume bottle; Louis XV armchair used by John Y. Mason; Original Statue of Liberty artwork by Frederic-Auguste Bartholdi signed and dated 1876; Medal of the President of the French Republic, Nicolas Sarkozy